Members of the Board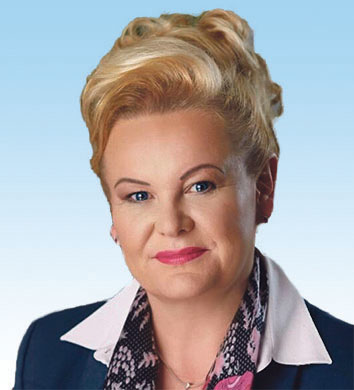 MARZENA  WODZIŃSKA
Expert in economy, finance law and accounting with 25 years of professional experience in banking sector. She started her professional career in the National Bank of Poland (since the beginning of her career Marzena Wodzińska has met thousands of clients and hundreds of companies). Graduated from the Poznan University of Economics (Marketing and Management with specialization in Finance and Accounting). She also completed post-graduate studies in the area of psychology in business. Attendant of post-graduate studies - Business Coach.
Professionally:
Head of the Ostrów Division of one of the largest banks in Poland, successfully implementing the advanced management methods and client-friendly financial projects in her division. Her profession, position and areas of interests and gained knowledge in the fields of accounting, public finance, company finance, investment projects, banking, bill of exchange, economic and civil law, psychology and insurance resulted in many awards and distinctions for the performance of tasks.
In private:
Inhabitant of Kalisz, professionally related to Ostrów Wielkopolski for 10 years. Happy wife and mother of Aleksandra - current student of the Mechanics and Machine Construction Department at the University of Technology. Active and successful social worker, sensitive to human misery and needs; handed down her passion of continuous help to her daughter. Among many tasks and obligations, she finds time to meet the youth from upper secondary and vocational schools, during which she widens their knowledge and discovers the secrets of banking and economy. Active cooperator of the Society acting for widely understood technical environment by carrying-out the top quality trainings, improving knowledge and practical skills of the economic sector employees and natural persons. Member of the Board of the second largest Family Allotment in Wielkopolska. Active hiker in her free time; gardener and plant arrangements designer; curious with the beauty and secrets of the other places on Earth and culture of different nations - a passionate traveller.
JACEK BOGUSŁAWSKI