Members of the Board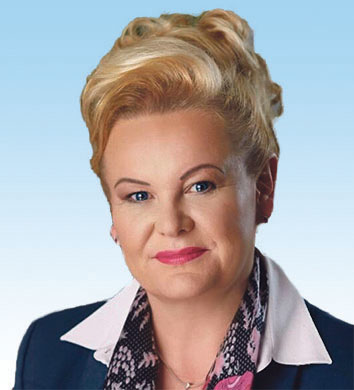 MARZENA  WODZIŃSKA
Expert in economy, finance law and accounting with 25 years of professional experience in banking sector. She started her professional career in the National Bank of Poland (since the beginning of her career Marzena Wodzińska has met thousands of clients and hundreds of companies). Graduated from the Poznan University of Economics (Marketing and Management with specialization in Finance and Accounting). She also completed post-graduate studies in the area of psychology in business. Attendant of post-graduate studies - Business Coach.
Professionally:
Head of the Ostrów Division of one of the largest banks in Poland, successfully implementing the advanced management methods and client-friendly financial projects in her division. Her profession, position and areas of interests and gained knowledge in the fields of accounting, public finance, company finance, investment projects, banking, bill of exchange, economic and civil law, psychology and insurance resulted in many awards and distinctions for the performance of tasks.
In private:
Inhabitant of Kalisz, professionally related to Ostrów Wielkopolski for 10 years. Happy wife and mother of Aleksandra - current student of the Mechanics and Machine Construction Department at the University of Technology. Active and successful social worker, sensitive to human misery and needs; handed down her passion of continuous help to her daughter. Among many tasks and obligations, she finds time to meet the youth from upper secondary and vocational schools, during which she widens their knowledge and discovers the secrets of banking and economy. Active cooperator of the Society acting for widely understood technical environment by carrying-out the top quality trainings, improving knowledge and practical skills of the economic sector employees and natural persons. Member of the Board of the second largest Family Allotment in Wielkopolska. Active hiker in her free time; gardener and plant arrangements designer; curious with the beauty and secrets of the other places on Earth and culture of different nations - a passionate traveller.

JACEK BOGUSŁAWSKI

Born in Piła, graduate of Stanisław Staszic secondary technical school in Piła, popularly called "Nafta", and the University of Szczecin where he majored in economics. From 2010, he was a Member of the Piła City Council for two terms of office, and a chairman of the municipal economy community. For nearly 23 years, he conducted an economic activity as an owner of CREDO Promotion and Commerce Studio dealing with the publication of training materials relating to driving learning and road safety intended for both children and adults. Products and services offered by CREDO are popular country-wide, and young drivers who have used materials published by the Piła-based company for the last dozen or so years to pass the driving test can now be counted in millions. While carrying out the business, he was also a member of the Business Centre Club and Chamber of Commerce of the Northern Wielkopolska Region. Since November 2018, Jacek Bogusławski is a member of the Board of the Wielkopolska Region.
Jacek Bogusławski began his professional career in the no longer existing Rail Rolling Stock Repair Workshops in Piła. Then he worked in the Szczecin branch of Polish Television and "Puls" Marketing Office in Koszalin, later to become director of its Piła branch. He is the founder and co-founder of initiatives that have influenced the life of the local North Wielkopolska community. By founding, together with Mariusz Szalbierz, a well-known journalist from Piła, FaktyPilskie.pl website and newspaper as well as the "Strefa Jazdy" magazine dedicated to driving, Jacek Bogusławski proved that it is possible to create in Piła something from scratch that can successfully compete with the existing media. For many years, he has been actively supporting children, young people and seniors in the region. He has been actively promoting sport among young people as a co-founder of a futsal club in Piła and its titular sponsor; The team – in spite of initial scepticism – has begun to achieve spectacular successes, surprising disbelievers.
Jacek Bogusławski has initiated many football and chess tournaments in Piła and the micro-region – all of them have been regularly held for years. Cooperating with the Regional Traffic Center, the police, sports clubs and schools, Jacek Bogusławski supports, often also financially, a number of social initiatives aimed at promoting desirable attitudes, sport, culture and safety of children, as well as their intellectual development.
In his free time, he likes playing tennis, jogging and swimming.